Picking up the Brooks Carrera folding Helmet gives one the feeling that it is a sturdy and solid helmet. It has a bit more weight than some of the other helmets reviewed, but that weight is put into sturdy craftsmanship and solid design. The Brooks Carrera Helmet sets a high standard for durability and looks, but it is heavier and does not fold as flat as other collapsible helmets like the Morpher.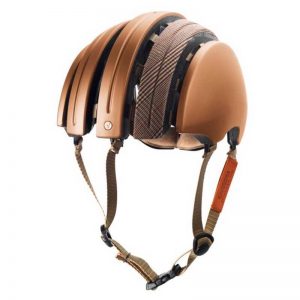 Features of Brooks Carrera Collapsible Helmet
Unlike other helmets that tend to shake around on the head during a vigorous ride, the Brooks Carrera helmet has adjustability features that allow it to fit your head securely. In addition, it has comfortable inner padding that gives a bit of extra cushion.
The Brooks Carrera helmet folds up along a number of seams running from front to back. While this does make it a collapsible helmet, it does not fold nearly as small as other helmets. In fact, the total width is only reduced by 30%.
The Carrera collapsible helmet, complies with both American and European safety standards (EN 1078 and CPSC).
The helmet consists of mostly polycarbonate and EPS foam, standard materials for modern helmets. In addition, the Brooks Carrera offers an option to include a fabric highlight strip on one of the longitudinal sections. This comes in a variety of colors and gives it a nice looking flair.
The helmet weighs in at about a quarter of a pound, which is light but not as light as some of the other helmets. The design is unique and looks great, especially with the fabric accent strips. The collapsibility of the helmet leaves much to be desired, and almost feels like a gimmicky after thought, as it saves you very little space.
This helmet does a good job of providing ventilation, but not as much as one might think. The front-to-back seams do act as vents, but they are not quite sufficient to prevent sweating compared to other helmets.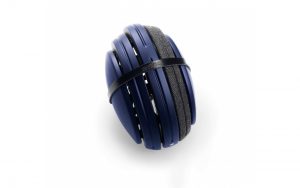 Pros and Cons of the Brooks Carrera collapsible helmet
Pros
It offers adequate ventilation to keep riders head cool.
Meets required safety standard certifications EN 1078 and CPSC.
Collapsible, but not huge space savings.
Available in varieties of color accents and looks unique.
Cons
May not fully cover the back of the head.
Carries a little bit more weight than other helmets.
Does not fold completely flat.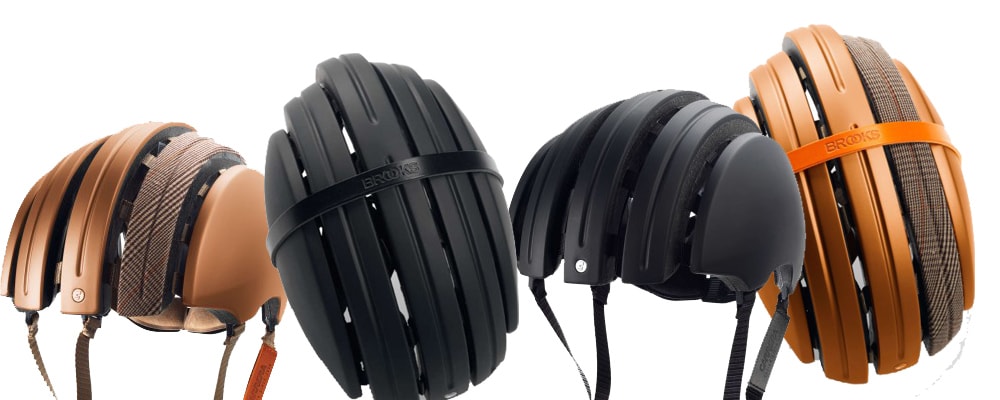 Summary
The Brooks Carerra helmet offers durability and style but comes up a bit short when it comes to portability. This helmet is recommended for people who are looking for cool factor and style over ease of use.