As a cyclist, right now is an exciting time to be alive given all of the options we have for folding helmets. But when it comes to folding helmets, the Morpher helmet stands as the gold standard. The Morpher helmet combines safety, comfort, lightweight design, and ease of use like no other folding helmet.
Morpher was born from an IndieGoGo campaign and has since come into its own as a pioneer of the folding helmet revolution. They were the first flat-folding helmet to earn safety certification from both US and European regulators. Morpher helmets are certified for a wide variety of sports such as skating, biking, and rollerblading.

The Good:
Flat and Foldable Helmet
Its core feature aside from protecting your cranium from car fenders is its ability to fold flat. By folding down the center of the helmet, the Morpher is able to fold down to a thinner profile than most other helmets on the market.
Lightweight:
The Morpher helmet is surprisingly light when held or worn on the head. It is constructed of impact absorbing yet lightweight foam with a plastic shell, so there are no added frills that might add weight to the helmet.
Versatility
The Morpher helmet comes in a range of sizes and each is adjustable to fit any size of head. We recommend purchasing a slightly larger helmet than you think you may need, as the Morpher is easier to adjust smaller than larger.
Stylish Colors
While not as sexy as the Closca helmet, the Morpher helmet does come in a variety of colors, including bright red, matte black, and our favorite, polka dot!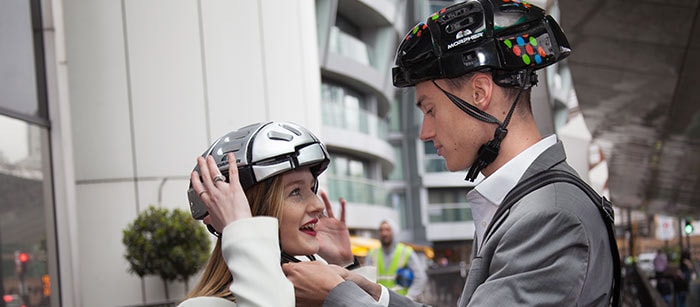 Safety
Morpher set the standard for safety and sailed through the impact tests necessary for certification from the Consumer Product and Safety Commission (CPSC). According to their site, they have won seven safety awards in just a few short years.
Recyclable components
The Morpher helmet is made of recyclable materials, not that you'd want to throw yours away or anything.
Ventilation
Multiple vents and joints give your head some breathing room with this one.
Magnets!
Did we mention the magnets? That's right, Morpher's helmet uses magnets to hold the helmet flat when folded and also incorporates a magnetic clasp for the chin strap. Neat, huh?


The Not-As-Good:
Durability
Some users have reported that the locking mechanism for the sides of the helmet can be a bit fussy. Although we had no issues in our tests, we'd be remiss not to mention that here.
Comfort
The Morpher helmet's first iteration was not particularly comfortable, trading compact design for comfort. The most recent version of the helmet adds forehead pads and soft inner padding for the top of your head, making it considerably better. The company did a good job of listening to feedback and redesigning for comfort.
Because this helmet is lightweight, compact, and well-built, it is a solid option for anyone looking for a folding bike helmet. The Morpher helmet can be bought at their site for $149 and includes free shipping.